Welcome to the Library. Sit back, relax, and pick a free short story to read available in any format you need. To choose a story just click on a book cover or story title. I've listed them in order of publication date. There are a lot of them in many different genres so there's something for everyone.
My Last Day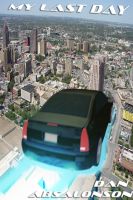 Genre: Science Fiction
Published: Aug. 11, 2010
Words: 5,460
It's police Captain Matt Selznick's last day on the job, and he's going to make sure he ends his career on a high note. Rather than ending with a customary day at the desk, he goes out in the field impersonating a criminal transporter to pick up a bad guy and bring him in for questioning. Sounds simple right? If only it had been.
---
Over a dozen more stories to come soon! In the meantime you can find links to them all at online retailers
here
. Thanks for visiting the Library!