The fine folks over at Every Photo Tells now have a
new page on their website entitled eBooks
! Why is this exciting? For several reasons. One - their awesome stories are so great in audio, but for those who aren't big fans of audio fiction, now these wonderful stories can be shared with a new audience who prefer text. Not only do they now have a
Volume 1
of the stories from their awesome podcast, but they listed other authors eBooks who've contributed to the podcast. I'm so grateful - they were kind and awesome enough to list my anthology,
Danthology
, on there! It contains several stories of mine that they accepted and published on their podcast and a bunch of my other short stories. They do an amazing job reading them. So go check out their new eBook,
Every Photo Tells... Vol. 1
, and
their podcast
because it's awesome. They have tons of cool stories in tons of genres. Here's the blurb for Volume 1 from their website: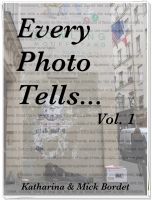 'Every Photo Tells… (Vol. 1)' is a short story anthology that sets out to show that every picture can tell more than just one story, by presenting a range of tales inspired by ten photographs. Mick and Katharina Bordet present their stories covering a wide range of themes and genres from the first ten months of EPT. Whether your taste is for horror or whodunnit, modern thriller or period swashbuckler, fantasy or sci-fi, there is sure to be something for you in this collection.