Welcome to the Library. Scroll down to check out the books I have for sale. These books are all available as paperbacks, as well as eBooks, so you can buy them and stock your bookshelves with them! I've provided a description of each one with links so you can be whisked away to purchase them. Thank you for your patronage! If you're looking for my free short stories, and there are a ton of them, check out my Free stories page. You can also read all of my short stories for free at Wattpad, which has even more than you'll find available at eBook retailers! Happy reading and thanks for stopping by.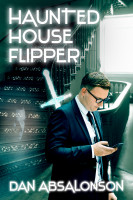 Purchase Links:
Haunted House Flipper:
A paranormal / urban fantasy novel with a Christian mythology
Description:
Ray is a friendless realtor who stumbles on some supernatural tools, including a sword, that can rid a property of evil spirits. He decides to use them to change his career and finally become a house flipper, but on a grander scale. He plans to flip old haunted mansions that no one else will buy, rid them of their evil spirits, renovate them, and sell them for a hefty profit. Getting them to leave isn't as easy as he'd hoped and he has some competition from Bill Baldock, who buys up haunted mansions to destroy them and build apartment complexes in their place. Discover a new world within our own with Ray as he tries to learn how to use his new tools against demons, make new friends, and outsmart new enemies.
Purchase Links:
Amazon
|
B & N
|
Smashwords
Sword and Urn:
A coming of age fantasy adventure novel. This book is a novella, or, short novel
Description:
Drade is just a villager manning a merchant table with his father Aren until two mysterious swordsman come to town. They claim they are there to take Drade and every other young man with them in their caged wagon. After a brutal sword fight helped with a magic potion Drade journeys north to the farm of his grandparents to fulfill a promise. Along the way he meets some colorful characters. He helps some of them. Others help him on his quest to reach his grandparent's farm before the villains he fought get there first. There is no way he will be able to face them again without a lot of help.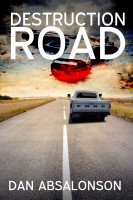 Purchase Links:
Destruction Road:
11,000 word Christian Suspense Novelette
Description:
Will has problems. A few years ago his pregnant mother died. His Dad has reduced himself to a drunk. Dad gets violent when he drinks, which is all the time. Will decides to run away, but ends up destroying another family by taking all of his anger towards his dad out on a stranger. Can this all be reconciled?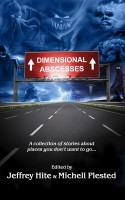 Purchase Links:
Kindle
|
Amazon Paperback
|
B & N
Dimensional Abscesses:
An Anthology of Short Stories containing my story "The Realm of Fire" and many other awesome short stories by other authors.
Description:
Not all portals take you to nice places; sometimes they lead you to places you never expected. Even worse, you might end up somewhere you definitely didn't want to go...and you might never get home from. Dimensional Abscesses is a collection of ten stories that explore a few of these "bad" portals.
No longer in print.
A Method to the Madness (A Guide to the Super Evil):
An Anthology of Short Stories containing my story "The Realm of Fire" and many other awesome short stories by other authors.